U13 Club Championships
News Date: 01/05/2019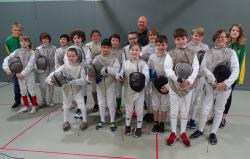 The Club held its annual Under 13 Foil Championships last Saturday, 27th April
 15 fencers turned out to Gilbertson Park Hall, to contest poule stages followed by direct elimination fights to produce the finalists. The competition was organized along the lines of competitions south, providing the newer fencers with good preparation for competition on the mainland.
There were some interesting bouts, when fencers from our different sessions of Lerwick, Aith and Brae staarted to compete with each other as they would only fence together occasionally.
There were no major upsets to form, although both Robert Swift and Torquil McKenzie did very well to come through to reach the last four, both winning bronze medals. Charlie Anderson and Murray Todd, who have long had a very friendly rivalry at the club, reached the final, with Murray winning to win gold. 
For those who go out of the main competition at the first round of direct elimination, a plate competition was held. Ewan Taylor, Heather Mowat, Ronin Tulloch and Gene Smith made it through to the last 4, with Gene Smith winning against Ewan Taylor in a close final.
Over 13's in the club, including James Masson and Izzie Gibson played a useful role refereeing a lot of the fights. Thanks also to Tracey Anderson for refereeing, Stephen March for overseeing all things technical and our other parents for helping with photos and keeping the competition moving along.
Under 13's Epee Competition
This is a new competition held in addition to the usual U18's epee, which will be held at the end of the season. This will be held from 10 till 2 on Sat May 25th at Gilbertson Park Hall, Lerwick.  All our fencers would manage the epee and we are coverting this different weapon over the next few weeks at the club. As usual please let me know at the club or by email to enter.