Prize Giving Night
News Date: 19/06/2018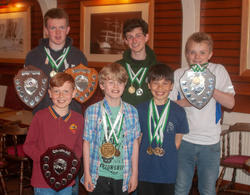 Club Prize Giving Night
Lerwcik Boating Club proved a great venue for our annual prize giving night. Thanks to for eveyone who came along, donated food and raffle prizes.
Our Prize winners this year:
Under 13  foil competition:  Gold James Masson,  Silver Murray Todd, bronzes (semi finalists) Charlie Anderson and Kristian Poleson 
Under 18 foil competition:   Gold Max Orr, James Masson, Silver, bronzes James Masson and Henry Hyndman
Under 18 epee competition: Gold Max Orr, Silver Henry Hyndman, bronzes James Masson and Murray Todd
Max wins the combined, Master of Arms Trophy.
There are 2 very important Shields awarded each year, and these have been presented for many years, from when the Club began. These are the 'Best Improver' Award and the 'Style Award'   THis year, there were several good candidates, but the awards were made to 2 of our youngest fencers.
For good improvement through hard work and enjoying the lessons through the year, Best Improver was Mara Bordeianu, 9
The Style Award is given to a fencer who shows good technique and style, and also shows a good sporting attutude all round. This award was made to Koll McConnachie, 8.
'Best Improver' and the