Leon Paul Scottish Schools Champs 19
News Date: 27/11/2019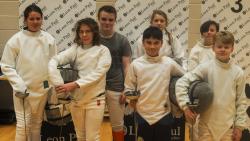 Well done to our fencers in their success at the Leon Paul Scottish Schools Championships at Linlightow last weekend of Nove 23/24th.
Usually fencers travel away to competition as part of the Shetland Fencing Club team. However in this national competition, fencers represent their schools,  The fencing club has a policy of taking fencing to a wide an area of Shetland as possible, and so it was good to see several different schools in Shetland being highlighted in the results. All the fencers took part in 2 days of competition, with the foil event being fenced on the Saturday and the epee on the Sunday. The experience gained by this group of fencers is now paying dividends and next season they will be well prepared to take on Senior Competitions, once they are thirteen years and over.
Results:  All or our fencers achieved well, with Charlie Anderson, at the youngest end of his age group gaining a 9th (foil) and a 6th (epee). The rest of the group all went on to gain medals.
Saturday Foil Event:
Primary School Age Group.Gold medal Mara Bordieanu, Bells Brae School
Secondary Girls Under 15 Bronze medal Olivia Scott, Anderson High School
Sunday Epee Event:
Primary School Age Group: Gold Mara Bordieanu, Bells Brae School
Secondary Boys Under 15Silver James Masson, Anderson High School
Bronze Murray Todd, Brae High School
Secondary Girls Under 15Bronze Izzie Gibson, Anderson High School
Bronze Amelie Atia Aith High School
Thanks go to Northlink for their continued support and accompying parents who provide support over the weekend