Glasgow Open April 2017
News Date: 20/04/2017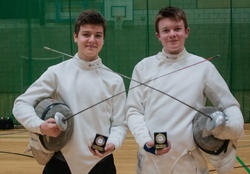 A group of 5 fencers travelled down to the Glasgow Senior Open, a well-established event attracting the top Senior fencers from both Scotland and the rest of the UK.
Max Orr and Kieran Whyte, both just 14. and in their second and first Senior events respectively, took on the challenge of fencing against much older and more experienced fencers. This 'deep end' approach has been successful for the Club, and gives the fencers the maximum amount of competitive fencing experience.
The other Shetland fencers were Erik Moncrieff, Rhodri Hawkins and Faye Perry.
There was a full programme of events over the weekend, with all Shetland fencers entered for both foil and epee events, ensuring a full day of fencing on both the Saturday and Sunday.
Ex Shetland Club fencers, now living south, Stephen Leask and Mhairi Gifford were also competing in this competition, which started on the Saturday with the Men's and Women's epee event. The epee is one of three weapons used in fencing, being the heaviest weapon and with the entire body being the target area.
Max Orr, in only his second Senior Competition, and Kieran Whyte, in his first Senior Competition, both fenced with enough control and confidence to hold their own against older, more experienced fencers. Indeed, after the rounds of poules in the morning, Max seeded an impressive 25th out of 56, to go into the direct elimination section of the competition on a par with very good quality Senior fencers. Kieran also seeded higher up the leaderboard than he could expect in his first Senior event.
Fencers who don't make it to the later stages of the direct elimination can enter a Plate competition. This gives our less experienced fencers the maximum amount of fencing. Max Orr was rewarded for his confidence and competitiveness all day as he won the Plate competition, with Kieran Whyte coming 5th. an excellent result for the two fourteen year olds.
The foil event took place on the Sunday. In the main event, Mhairi Gifford won the Ladies foil bronze medal and again Shetland performed well in the Plate competition, with Stephen Leask, now fencing at Glasgow Uni, winning, and Kieran Whyte and Erik Moncrieff winning bronze. The secondary competitions are a very good stepping stone to future success, and allows them to compete with the highest ranked fencers in the Country.
Full results are available at: http://www.glasgowopen.co.uk
Thanks go the Northlink for their continued support.