Fun Competition Brae
News Date: 11/03/2019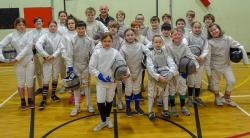 Foil Fun Competition in Brae.
Great to see 23 fencers in our Foil Fun Competition at Brae on Saturday. By putting on a 'fun competition', we could make this different from the Club Championships or some competitions south. Beginners and those who haven't experienced a competition yet, could learn how a competition is run, and concentrate on their fencing, with less worry about results. The more experienced fencers were given a chance to try new tactics and moves.
Our 23 fencers ranged from 7 to 14 years old, and travelled in from nearly opposite ends of Shetland, from North Roe to Dunrossness. All were very impressive in how positive and sporting the fencing was.
Many thanks for our parent helpers, especially those thrown into the deep end a bit doing a great job, helping out with the officiating. This help is invaluable and it would be great to see the same for the Club Championships on April 27th. 
There should be plenty of photos to look through, starting with the Group photo: I'm afraid you will have to work out who's who on the action photos as there are a lot of them.
l to r back:  Heather Mowat, Amelie Atia, Olivia Scott, James Masson, Coach Phil Hibbert, Ewan Taylor, Ronin Tulloch, Gene Smith, Torquil McKenzie, Robert Smith and Dexter March.
l to r middle: Sami Morrison, Mara Bordeianu, Murray Tood, Charlie Anderson, Koll McConnachie, Arion Mavroukis, Thomas Angus, Astrid McDonald and Ellie Anderson.
l to r front: Poppy Morrison, Lily Tulloch, Alistair Robinson and Ryan Johnson.