Fun Competition Aith Leisure Centre
News Date: 18/12/2017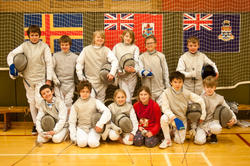 Aith hosts first fencing competition
 11 young fencers braved the weather conditions at the weekend to take part in a competition at the Westside Leisure Complex in Aith. 
 A fun competition was held in Aith to bring together youngsters from the Lerwick, Aith and Brae sessions, so that they could meet with and fence each other. Despite the poor weather, fencers arrived from all over Shetland, including North Roe and Yell to show that sport doesn't always have to be based in town.
 The Hall was laid out with all the electric scoring equipment and fencing areas, or "pistes", just as any full competition would be. This was a good chance to introduce beginners to that environment. That said, the emphasis was on getting the most enjoyment out of the event ahead of more competitive events in the New Year. The afternoon allowed a good warm up routine followed by 2 rounds of poules allowing all fencers to meet as many new fencers as possible.
 It is now very likely that the Aith sessions on Mondays at 7.15 and the Brae Sessions on Saturday mornings from 10 to 12 will become permanent fixtures in the Club Calendar and with the success of getting fencers from the different sessions together, we would encourage anyone who can, to try even just the occasional extra session during the week.
 Young fencers competing at Aith as seen on the group photo were:
back row l to r: Jonathan Goudie, 13, Dexter March, 9, Robert Swift, 11, Izzie Gibson, 9, Amelie Atia, 11, Kristian Poleson, 8.
front row l to r: Thomas Angus, 7, Mara Bordeianu, 8, Astrid MacDonald, 9, Caitlyn Bennett, 9, Murray Todd, 11, and Charlie Anderson, 11.