Competition Results
News Date: 28/05/2019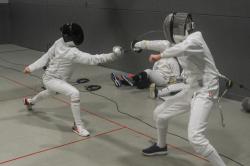 Competition Results
 The Club is having a busy end to its main season.
Wallace Fencing Club, Linligow Foil 24er   
8 of our fencers travelled down to Linlithgow, to compete on Sat 18thMay, in this season's final '24' series age group competition. Our recent successes at this competition continued with gold medals won in respective groups by James Masson, Olivia Scott and Sami Morrison and silver by Dexter March.  
 Under 13 Club Epee Championships
Last Saturday, 25thMay, the Club held it's Under 13 epee Club Championships at Gilbertson Park Hall.  18 young fencers entered the competition, which started with rounds of poules, after which, the fencers were seeded into positions which determined the direct elimination rounds. There were some impressive performances from fencers fairly new to the club, and fencers were brought together from the sessions, which are held weekly in Brae and Aith, as well as the main Lerwick session.
 As the direct elimination stages progressed, the last four medal winning positions whittled down to Olivia Scott, Murray Todd, Charlie Anderson and Amelie Atia.  Murray made it through to the final, joined by Olivia Scott, reaching her first final, showing  a good ability at this particular weapon. It looked for quite a while that Olivia would win the final, but Murray managed to work out his tactics just in time and to come back at the end to win 10 – 9 and gain the gold medal, with Olivia finishing with silver and Amelie and Charlie bronze.
 Competitiors: Amelie Atia, Lily Tulloch, Thomas Angus, Ronin Tulloch, Koll McConnachie, Dexter March, Mara Bordieanu, Ellie Anderson, Olivia Scott, Charlie Anderson, Heather Mowat, Ewan Taylor, Gene Smith, Robert Swift, Arion Mavroudis and Murray Todd.
 The main competitive season finishes next weekend with the UK wide Leon Paul Age Group Series, with the Scottish leg held at Linlighow on June 1/2nd.