Club Championships 2017
News Date: 27/04/2017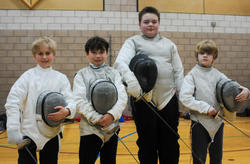 Our annual Club Championships were contested over 3 dates in April.
The Foil Championships Under 13's and Under 18's took place at the Gilbertson Park Hall on April 22nd.
Under 18 Foil
This event has been contested over the Club's long history.
 After the poule stage, Max Orr was the top seed, followed by Rhodri Hawkins. The direct elimination stages resulted in the top 2 seeds making it through to the final. Max established an early lead, and despite Rhodri keeping close, Max ran out to win the event:
1

Max Orr

 

2

Rhodri Hawkins

 

3

Kieran Whyte

 

3

Henry Hyndman

 

5

Faye Perry
Under 13 Foil
This event was introduced as a separate event last year. James Masson, last year's winner was away and unavailable to defend the title, but a good turnout of 11 fencers entered.
Despite the age group, there was still quite a mix of relative beginners and fencers who have now been fencing for a while.
Some of the fencers, impressed with their fencing technique, showing they are developing well. Good technique is not always shown up in results early on in competitions, but shows through in results later on.
Everyone, though competed well, and the levels of concentration were pleasing to see.
After the rounds of poules, Sam Smith and Murray Todd, were neck and neck with their results with Sam Smith narrowly making 1st seed with Murray Todd making 2nd seed. This set up the direct elimination stages. Like the previous U18 competition, the 2 top seeds made it through to the final, with Ethan Dunn and Charlie Anderson making it to the semi finals to win bronze medals.
Final Results:
1

Murray Todd

 

2

Sam Smith

 

3

Charlie Anderson

 

3

Ethan Dunn

 

5

Amelie Atia

6

Izzie Gibson

7

Dexter March

8

Torquil Mackenzie

9

Calum Morrison

10

James Inkster

11

Isaiah Christie

 

 
The Under 18 Epee Championships
This took place over 2 sessions on the 18th and 25th April
6 of our older fencers contested the Epee event, including Amy Fraser, who had very little experience of epee fencing compared to the rest.
The poule stage again determined the direct elimination fights.
The fencers who made the semi final were Max Orr, who would fence against Kieran Whyte and Rhodri Hawkins who would fence Henry Hyndman. Max and Henry made to the final which Max ran out winner 15 – 10.