Brae Fun Foil Dec 7th 2019
News Date: 10/12/2019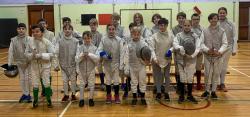 It was great to see 19 fencers make it to the Brae Fun Foil event last Saturday 7th Dec held at the Brae School Games Hall
It was good to see some beginners and thanks for the support from the parents and referees.
A satellite session of the Fencing Club has been building up nicely at Brae and so proved to be a good venue to bring all the Shetland fencers together to meet and fence together.
The format of the competition consisted of everyone fencing each other in poules, mixing different levels of experience, with no direct knockout stages. This is a great way for our beginners to get a taste of a competition atmosphere with plenty of fun, only a little pressure, and, coming up for Christmas, plenty of chocolate on hand.
 To start the day, the Club's youngest fencers, Alistair Robinson, from Brae and Brydon Laurenson, both just eight years old, met each other for the first time and delighted those watching with a very sporting and close fought match, showing considerable skill for such an age. The competition continued with great commitment from all the kids, some taking part in  their first competition of any type. The day prepared them all to take on events on the Mainland, where our juniors perform so well.
 We have a few photos of the action and a group photo.  - not sure how Alistair managed to get in as many photos!
Fencers taking part were: 
back l to r in photo
Arion Mavroudis, Thomas Angus, Murray Todd, Charlie Anderson, Robert Swift, Ewan Taylor, Dexter March, Torquil McKenzie, Ronin Tulloch and Olivia Scott
front l to r
Lewie Angus, Jack Spriggs, Alistair Robinson, Lily Tulloch, Christopher Brown, Brydon Laurenson, Jaime Tulloch, Astrid McDonald and Amelie Atia.