Club Under 13 Foil Championships
News Date: 02/05/2018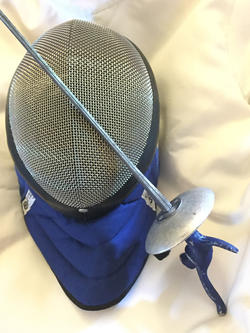 Club Championships Under 13 Foil
Gilbertson Park Hall
Saturday May 12th from 10 to 2.
Our annual Under 13 Foil Club Championshipsis approaching fast and so we now need to know who will be taking part.
Who is it for?       All our fencers, including beginners who were born in 2005 or later.
It will be a good experience for all and there should be no worries about 'not being good enough' if you have just started fencing, it will be good experience.We will mark out fencing strips and all fencers will fence on the electric scoring kit, with any help they need to organise that.There is plenty of room and seats for spectators and the kitchen is available for  tea and coffee. If some parents wish to bring in some home bakes to keep fencers and spectators going for the day, then please do, - even highly tuned athletes are allowed cakes. - Let Phil know.
We would like to know definite numbers for the competition so we can organise the format etc. Please let us know if your child would like to enter. There is no charge.
Breeches and long socks must be worn.
Please remember all your kit and bring water bottle along
List of confirmed entries will appear below so please confirm if you are not no the list:
Murray Todd
James Masson
Charlie Anderson
Ethan Dunn
Koll McConnachie
Mara Bordeianu
Amelie Atia
Thomas Angus
Astrid McDonald
Kristian Poleson
Izzie Gibson
Olivia Scott
Sami Morrisson
Dexter March
James Inkster